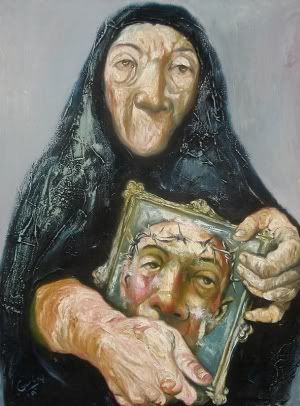 An alliance of artists advocating human rights announced today that it will be holding a series of art exhibits on the political killings, starting this mid-November.
Based on data from the human rights group Karapatan, there have been 779 victims of extra-judicial killings under the Arroyo regime from January 2001 to Nov. 5, 2006. Of this number, 338 are with known political affiliations.
Dubbed Perspektiba, the series of exhibits by Tutok Karapatan (TutoK) will open on Nov. 21 at the Beato Angelico Gallery, University of Santo Tomas (UST) with live installation by Jeho Bitancor.
The exhibit will run at UST until Dec. 2. As part of the Perspektiba-UST event, TutoK will hold a forum on Nov. 29, with multi-awarded novelist Jun Cruz Reyes as the main speaker. And live actions in the evening with artists Jose Tence Ruiz, Jef Carnay, Cos Zicarelli, and award-winning poets Roberto Ofanda Umil and Angelo Suarez.
Among the artists participating in the Perspektiba-UST event are painters Antipas Delotavo, Boy Dominguez, Gene de Loyola, and Emmanuel Garibay; multi media artist Claro Ramirez, Lyra Abueg Garcellano, Don Salubayba, Ed Manalo, Benjo Elayda, Mark Ramsel Salvatus III and Buen Calubayan; and art groups Anting anting and UGAT Lahi;
The Perspektiba series of exhibits will next run at St. Scholastica's College in January next year, and at the University of the Philippines (UP) in Diliman, Quezon City in February.
Perspektiba is just one among several events slated to be held by TutoK starting this month.
Perspektiba is curated by Mideo M. Cruz with Raoul Rodriguez as co-curator for exhibition and Victoria Deocampo as co-curator for live actions.
TutoK was formed late last year as a response from the artistic community to the deteriorating human rights situation in the Philippines.