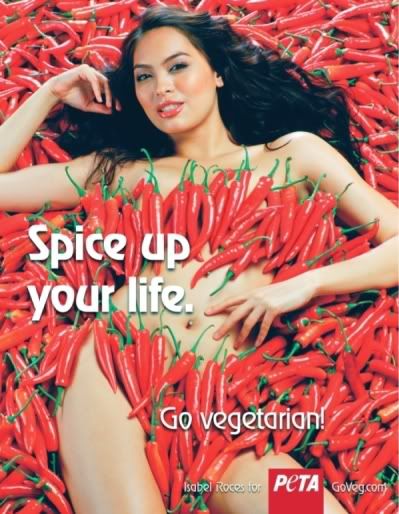 Manila — Swathed in nothing but red hot chili peppers next to the tagline "Spice Up Your Life—Go Vegetarian!" Filipino supermodel Isabel Roces appears in a brand-new ad for People for the Ethical Treatment of Animals (PETA) Asia-Pacific touting the many benefits of a meatless diet. Isabel wants people to know that going vegetarian is the best way to stay trim, fight animal abuse, and avoid life-threatening illnesses. The ad was shot in Thailand by ace photographer Amat Nimitpark.
"Being healthy and kind is always in style," says Isabel. "So whether you want to slim down and get healthy or just clear your conscience, there's no better way than to go vegetarian!"
Going vegetarian has never been easier. There is a growing variety of wonderful foods to choose from at local markets and health-food stores like Healthy Options. Upscale stores such as Rustan's offer a wide variety of vegan treats, including Luna bars, Amy's chilies, and instant soups from Fantastic Foods. At local supermarkets, you can buy ready-to-eat laing, chilies in coconut milk, and frozen vegetarian dumplings. If you miss the taste of meat, there is a huge assortment of vegetarian options made to resemble everything from chicken drumsticks and roast duck to "beanuguan" and tilapia. And with ethnic and vegetarian restaurants springing up everywhere, meat-free dining is easier and more delicious than ever.
Consumption of meat and other animal products has been conclusively linked to heart attacks, strokes, diabetes, obesity, and cancer. Cardiovascular diseases, vascular diseases, cancer, and diabetes are among the leading causes of death in the Philippines. About 3 million Filipinos are diabetic, and approximately half of these cases go undiagnosed. Another 3 million Filipinos are at serious risk of developing diabetes. Hypertension affects about 8.6 million Filipinos, but only 13.6 percent know that they have it. According to the Department of Health, this causes "chronic uncontrolled states and progressive organ damage leading to death." The Philippine Cancer Society urges Filipinos to increase their intake of these wholesome foods, and the World Health Organization has declared that inadequate consumption of fruits and vegetables is among the top 10 selected risk factors for global mortality.
Eating animal products also leads to the spread of deadly diseases like avian influenza, or "bird flu," and variant Creutzfeldt-Jakob disease (vCJD), the human form of "mad cow disease." Mad cow disease has been discovered in countries that export beef to the Philippines, including the U.S. and Canada.
The animals suffer, too. Isabel—who has graced the pages of fashion magazines across Asia, including Preview, Cosmopolitan, FHM, T3 and Australia-based Well Being and appeared in ads for Watson's and C2—has been an ethical vegetarian since childhood. This beauty knows that there is nothing "fashionable" about animal abuse.
"Modern factory-style agriculture commonly keeps cows, calves, pigs, chickens, turkeys, ducks, and other animals in overcrowded stalls and cages, where they are unable even to turn around for their entire lives," says Isabel.
Chickens are typically raised in cruel factory farms. Many have their sensitive beaks cut off with a hot blade when they are only a day old and spend the rest of their brief lives in filthy, extremely crowded sheds where they are drugged and bred to grow so fast that many become crippled under their own weight. Cows and pigs endure dehorning, castration, and other painful mutilations—all without any painkillers. At slaughterhouses, animals are hung upside-down, and their throats are slit, often while they are still conscious.
In many slaughterhouses in the Philippines, cows and carabao are not rendered insensible to pain before they are killed. Instead, a worker severs the animals' spinal cords with a special knife called a puntilla, preventing them from struggling or running away. Maimed animals lie on the floor—still conscious—for 10 minutes or more before their throats are finally slit. Before killing each cow, the worker cuts off a large piece of skin to make it easier to collect the animal's blood. Workers in these facilities are not trained to make a clean cut or to minimize animals' pain. As a result, most cows and carabao slowly bleed to death on the slaughterhouse floor while their killers collect their blood in a can or bucket.
Isabel also refuses to eat fish, saying, "Fish cannot always express their suffering in ways that humans can easily recognize, but marine scientists confirm that fish feel pain, as all animals do." After surveying scientific literature about fish pain and intelligence, a team of researchers at the University of Guelph in Canada recently concluded that fish feel pain and that "the welfare of fish requires consideration."
For more information, please visit PinoyVeg.com.