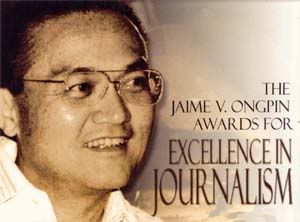 This year's six top winners of the Jaime V. Ongpin Awards for Excellence in Journalism (JVOAEJ) will be announced at a ceremonies to be held at the AIM Conference Center Manila in Makati City on June 30, according to a news release from the Center for Media Freedom and Responsibility (CMFR).
The awarding will be preceded by the annual Jaime V. Ongpin Journalism Seminar, which will start at 9:30 AM.
The first JVO awards were given in 1990 to honor the late Jaime V. Ongpin, a secretary of finance during the Aquino administration. A press freedom advocate, Ongpin was involved in the struggle against the Marcos dictatorship and was instrumental in harnessing public support for the restoration of democracy in the Philippines.
Seventeen investigative and explanatory reports have been chosen as finalists in the Awards. The JVO awards had been solely for investigative reports from 1989 to 2000. This will be the fourth year that explanatory reports as a separate category will be recognized.
The first-prize winner in each category will receive P70,000; the second-prize winner, P40,000; and the third, P20,000. Finalists will receive P10,000 each. All the finalists will likewise be given a plaque.
The two first-prize winners will also receive a travel grant each. This will be the ninth year that the Canadian Embassy will award the Marshall McLuhan Prize, a travel study tour of Canada, for the winner in the investigative report category. For the third time, the Australian Embassy will present the Australian Ambassador's Award, an observation tour of Australia, to the winner in the explanatory report category.
The CMFR, which administers the Awards in cooperation with Ateneo de Manila University, organized the Jaime V. Ongpin Journalism Seminar as a venue for the announcement and awarding of prizes and to enable journalism students to learn from the authors themselves how the reports were written. The JVOAEJ is sponsored by The Asia Foundation with support from the United States Agency for International Development.
The following are the finalists in the explanatory report category:
Half-truths in advertising
by Cecile C.A. Balgos
Philippine Center for Investigative Journalism
Published in i January-June 2004
Much ado about numbers
by Yvonne T. Chua
Philippine Center for Investigative Journalism
Published in i January-June 2004
Survey agencies on center stage
by Miriam Grace A. Go
Newsbreak
April 12, 2004
The showbiz press gets into politics
by Chay Florentino-Hofileña and Aries Rufo
Philippine Center for Investigative Journalism
Published in BusinessWorld, Cebu Daily News, Malaya, The Manila Times and Sun.Star Cebu on May 3-4, 2004
Pervasive rot
by Jing A. Mable
Philippines Free Press
October 30, 2004
Spinning the news
by Ibarra C. Mateo
Philippine Center for Investigative Journalism
Published in i January-June 2004
Filipino diaspora provides needed boost
by D'Laarni A. Ortiz
BusinessWorld
December 9, 2004
Fat cats
by Lala Rimando
Newsbreak
December 6, 2004
The finalists in the investigative report category are the following:
Reclaiming land,Tony Leviste-style
by Gemma B. Bagayaua
Newsbreak
March 15, 2004
How representative is Congress?
2nd and 3rd Parts
by Yvonne T. Chua with additional reporting by Avigail Olarte and
Booma B. Cruz
Philippine Center for Investigative Journalism
Published in BusinessWorld, Cebu Daily News, Manila Standard, The Manila Times, The Philippine Star, Sun.Star Cebu and TODAY on March 23-24, 2004
Pork is a political, not a developmental, tool
by Yvonne T. Chua and Booma B. Cruz
Philippine Center for Investigative Journalism
Published in BusinessWorld, Cebu Daily News, Malaya, Manila Standard, Philippine Daily Inquirer, The Philippine Star and Sun.Star Cebu on September 6-7, 2004
A folio of two articles:
A comptroller's hidden wealth
by Glenda M. Gloria with reports from Gemma Bagayaua, Miriam Grace A. Go, Raphael Martin, Gemma Nemenzo, and Noli Cabantug and
The godfather by Glenda M. Gloria
Newsbreak
December 20, 2004
Cover-up in the military
by Glenda M. Gloria and Raphael Martin
Newsbreak
November 8, 2004
In Tarlac, CARP gives land to the wealthy
by Luz Rimban
Philippine Center for Investigative Journalism
Published in BusinessWorld, Cebu Daily News, Malaya and Mindanao Daily Mirror on July 5-6, 2004
A mega killing
by Aries Rufo
Newsbreak
August 16, 2004
The untaxable church
by Aries Rufo
Newsbreak
November 8, 2004
16 years of agrarian reform
Lands back in the hands of the lords
by Zelda D.T. Soriano with additional research by Ma. Jessica Ocasla and John Thomas Sipin
Bulatlat.c࡯m
Published in Philippine Graphic on July 12 and 19, 2004