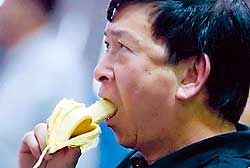 National Security Adviser Norberto Gonzales, who was recently cited for contempt by the Senate for refusing to answer questions on a controversial contract he signed with an American law firm, reportedly needs to undergo a heart bypass. It is sad that he suddenly became so ill. It seems that he is the only person–other than Arroyo–who could answer the questions about the lobbying contract for charter change that he signed with Venable LPP. His operation would mean those questions will remain unanswered until he recovers.
Gonzales, who heads the Partido Demokratiko Sosyalista ng Pilipinas, has been an activist for most of his life. That he is now one of the rabid defenders of an unpopular president like Arroyo surely puzzles many of us. Here are some articles that would help us understand the person:
A Newsbreak article, Unraveling Norberto Gonzales traces his career from his early activism to his stint with the current administration. Meanwhile, Manila Times' From the streets to government service meanwhile chronicles not just his career, but also his personal life.
Whether you love him or hate him, I'm sure he'll still be on the news for some time.