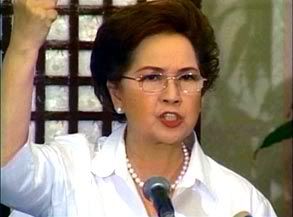 After Susan Roces' strongly worded statement in Club Filipino last June 29, anti-Arroyo protests intensified. It looks like the Resign-Impeach-Oust Arroyo forces have found an inspiration in the widow of the late Fernando Poe Jr.
The words that an angry Susan Roces used to describe Mrs. Arroyo could very well be the same words street protesters utter: "Arogante siya. Arogante! Hindi niya isinaalang-alang ang damdamin ng nakararami. Manhid!"
Roces lamented the Supreme Court's refusal for her to replace FPJ as petitioner in his election protest and decried the imposition of the expanded value added tax (which the Supreme Court suspended yesterday). She also rejected Arroyo's public apology and accused her of cheating in the 2004 elections.
Roces'sentiments with regard to the issue of cheating apparently echo the pulse of the people. A very recent SWS telephone survey revealed that of 526 respondents, 59% said she cheated while 29% said she was protecting her votes. She also got a low trust rating of -31. In her speech, Roces said Arroyo already lost the people's trust.
However, only 18% agreed with Roces' call for Arroyo to step down. Twenty-eight percent want to "find the truth," while 20% agreed with Arroyo's call to close this chapter of our history. This probably explains why, despite the increased intensity, the mass protests haven't produced wam bodies enough to stage another Poeple–err-People Power.
It would be interesting if SWS would include Susan Roces in one of its future survey. Although the answers seems obviuos, I'd still like to validate, though polls, who among these two ladies have the people's trust.