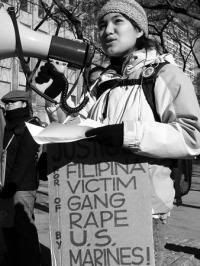 Yesterday marked the first anniversary of the controversial Subic rape case. A Filipina woman nicknamed by the media as "Nicole" alleged that Daniel Smith, a member of the US Marines, raped her on the night of November 1, 2005. Reports say while Daniel was raping Nicole, other servicemen were cheering him on. On December 27, 2005, charges of rape were finally filed against Smith and the others at the Olongapo trial court. The case has since been transfered to a Makati court, and it is now awaiting judgment.
It was a difficult fight for Nicole. Instead of defending Nicole, the Department of (In)Justice, from the very start, lawyered for the American soldiers. First, Raul Gonzalez downgraded the charges against three of the accused US Marines from principal to accessory. Then, the government prosecutors reportedly convinced Nicole's mother to just agree to a settlement with the suspects. And when Nicole asked that the government prosecutors be replaced, Gonzalez denied her request. The same government prosecution panel, despite the opposition of one of its members, Atty. Hazel Valdez, decided to cancel the scheduled prosecution's rebuttal. Last we heard, Valdez has been removed from the panel.
With the DOJ on the side of the suspects, Nicole could only rely on the Filipino people's support. Let us all hope that the Makati court will hand down a decision in favor of our kababayan.
Related link: Online Petition: Justice for Nicole, Justice for our Nation