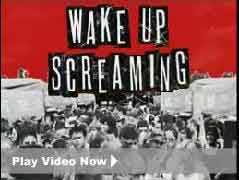 People for the Ethical Treatment of Animals (PETA) Asia-Pacific will be launching the movie Wake Up Screaming on Saturday, September 9, at the Social Science AVR of Ateneo de Manila University. The movie will start at exactly 4:30 p.m., but please be there at 4 to buy tickets.
Tickets will be available for only 50 pesos.
Wake Up Screaming is a one-of-a-kind, behind-the-scenes look at the Vans Warped Tour—the longest-running traveling music festival in the world.
The movie, a rockumentary of sorts, follows PETA staffer Jason Bayless, our senior youth outreach coordinator, as he travels in 48 cites across the United States and Canada, hobnobbing with the hottest bands around and daring various band members to wear cow costumes, go vegan on tour, and urge concertgoers to sign petitions.
The movie is the perfect introduction to animal rights–complete with great music and wild backstage and onstage happenings. This is the first time that the movie will be shown in public in Asia.
Check out WakeUpScreamingMovie.com to see the trailer.